Is there an end to curiosity and the ability to pick up new skills? Of course not! That's why Baby Boomers are often on a quest for life-long learning. They may want to complete a degree they never had a chance to complete, advance their credentials, or simply indulge in their favorite hobbies.
This page was originally posted in May 2018 and updated in Apr 2022.
With the kind of technology we have today, you can now learn whatever you want online in the comfort of your own home using your computer. And now that we're at home more than we care to be, why not learn something new to stimulate your mind and add more richness to your life?
Life-long learning can change your life
I've put together a list of online learning sites and hope you will try some of them out. You may discover a new direction in your life that will bring you more happiness, abundance, and creativity. You'll also find connections and mentors who will help you embrace your passions and make them realities.
1. Take online college classes to enhance your credentials
edX is a site that offers online courses given by top-tier universities such as Harvard, Berkeley, University of Texas, Massachusetts Institute of Technology, the Sorbonne, and Boston University. You can earn MicroMaster's Certificates, Professional Certificates, XSeries Programs, and University credits in a huge array of subjects.
Their most popular course is called "The Science of Happiness." Some classes follow a fixed schedule and others are self-paced so you can complete them at your leisure. You can choose from over 1900 courses and the site serves 14 Million + learners worldwide.
The Edx mission:
At edX, we take our mission of increasing global access to quality education seriously. We connect learners to the best universities and institutions from around the world. Join us!
2. Build your skills and stay up to date
Coursera has over 40 million online learners from all over the world where students can take courses offered by Universities like Yale, Stanford, Duke, and high-tech companies like Google and IBM.
You can purchase a course certificate that provides identity verification and official recognition from the school offering the course. There are also specialization and professional certificates available in high-demand subjects like data science, business, digital marketing, and software creation.
3,900 courses and specializations, 13 + certificates, and 20 + degrees and Mastertrack Certificates.
3. Delve deeper into your interests and expand your world view
If you prefer CD and written courses rather than live online learning, The Great Courses is a site you may want to consider.. I bought their "Art of Travel Photography," "Writing Creative Nonfiction," and "Great Tours: Experiencing Medieval Europe" courses.
Teachers include university professors as well as other professionals in their fields. Courses run the gamut of knowledge and include Better Living, Science, History, Fine Arts, Economics, Literature, Philosophy, Religion, Music, Math, High School, and Professional. I was impressed with what I received and believe it's well worth the investment.
4. Learn from masters in their field
Can you imagine taking a photography class from Annie Leibovitz or learn to direct with Ron Howard? Masterclass offers classes by some of the world's greatest minds. How about a cooking class from Gordon Ramsay, screenwriting by Aaron Sorkin, or Comedy with Steve Martin? This is the caliber of life-long learning classes that are offered.
The best deal is to purchase their unlimited-access pass and it makes an amazing gift for someone you love.
Masterclass has been recommended by Today, NBC The New York Times, Billboard, ESPN, and Vanity Fair. Some new classes include makeup by Bobbie Brown, creative writing with Margaret Atwood, and self-expression and authenticity by Ru Paul. To find current classes available on MasterClass, click here.
5. Take university courses in quick easy bites
One Day University offers courses given by top college professors that you can now take online. They offer an extensive live streaming one-hour lecture series 5 days per week that you can take with an incredibly affordable monthly payment of only $7.50 per month. Plus, they have a video library of over 300 previous in-person talks that range the gamut of topics such as history, psychology, the arts, and much more.
I love that you can do this in small daily doses whenever your schedule allows and the topics are always fascinating!
Their courses are taught by the country's finest liberal arts professors focusing on history, politics, art, music, psychology, science, literature, film, philosophy, and they have also added business education.
Start a free trial here using the code BOOMSTER that is good for 1 month.
6. Learn technical and other practical skills
Baby Boomers are reinventing themselves into all sorts of post-retirement businesses and many are working online. You can learn tech skills such as website design, social media, IT, computer software, business skills, as well as photography, health, self-improvement, languages, music, test prep and just about anything on Udemy
They have a library of over 65,000 online learning courses at reasonable prices. Work at your own pace. You can even learn using their fabulous phone app.
7. Love to travel? How many languages can you speak?
If you're like most Americans you only speak English but that's a shame because it's easier to travel if you know other languages. Babbel is a smartphone app you can take with you anywhere. It is a state-of-the-art technology that makes learning a language easy.
It uses dialogue so you can have conversations and employs cognitive techniques to help you remember what you've learned better and longer. You'll be able to use your new skills quickly. Why not visit their website here and give it a try?
8. Do you like to sing?
Encore University offers a multidisciplinary online arts enrichment program for older adults. They include Chorales, Rocks programs, and Sentimental Journey Singers which is a choir for those with early Alzheimers or memory impairment.
In addition, to live programs, they offer online university classes, summer camps, winter retreats, and travel abroad programs. Encore is committed to providing an excellent and accessible arts education program for older adults regardless of ability or experience. Visit their website to see what they have to offer here.
9. Learn to be a writer or blogger and get paid
If you have a desire to become a freelance writer I recommend you take a course from Great Escape Publishing. I attended their travel writer's workshop in Denver and not only learned valuable skills but met amazing people, some of whom have written posts on this blog and have become online friends.
I decided to stick with blogging but my writing has improved immensely because of it. Many of my classmates are now award-winning writers who have bylines in a variety of publications both print and online. Great Escape's courses are not cheap, but certainly worth it in both content and contacts.
I've been blogging since 2008 and taught myself how to set up sites on WordPress.
If you'd like to know more about how to start a blog using WordPress, click here.
10. Enlighten your consciousness
The Chopra Center offers classes and teaching opportunities in meditation, Ayurveda, and coaching. You can learn online or attend one of their retreats. The Chopra Center is located at the Omni La Costa Resort and Spa in Carlsbad, California near San Diego.
If you are a seeker, dreamer, or interested in the evolution of your consciousness you will love Gaia. It's an online streaming site that provides video programming for spiritual growth, alternative health, personal development, and expanded consciousness.
Develop your intuition, learn about ancient civilizations and cultures, relieve stress, and even delve into the occult.
What are you doing to add to your own life-long-learning? Please leave a comment below.
Please share this image on Pinterest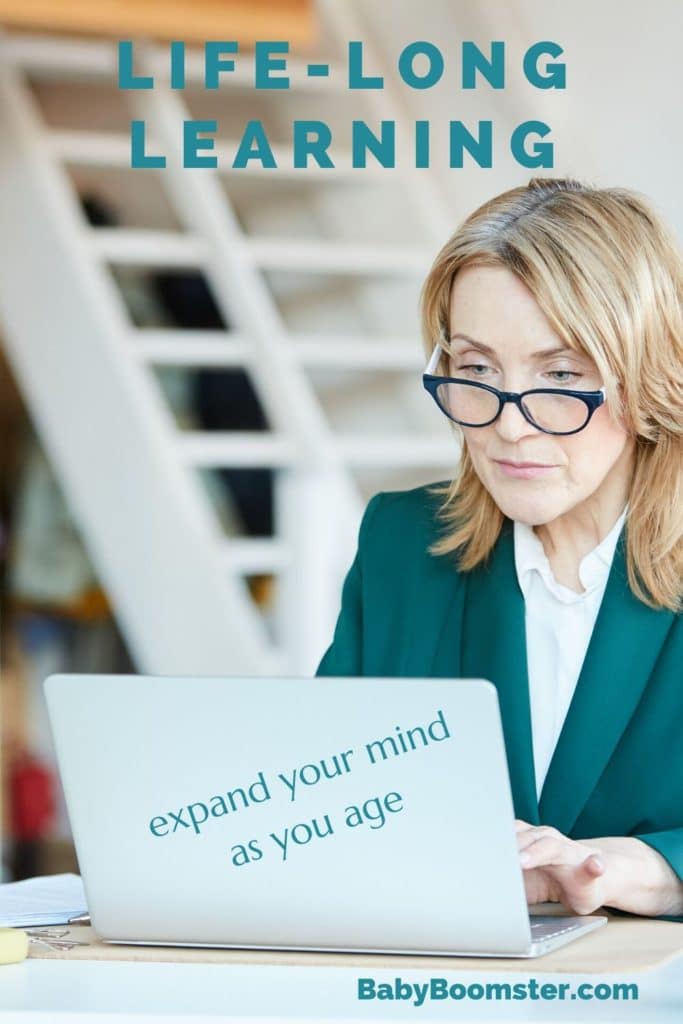 More Shopping
Fashion Over 50 | Beauty & Skincare |Travel | Blogging and Tech | | Special Occasion Gifts | Life Long Learning Health | Etsy | Favorite Amazon Books