It's always fascinating to find out where our favorite movies were made. So I met up with some other bloggers to tour movie locations and other Los Angeles points of interest in Hollywood, Universal City, and downtown LA.
Hollywood is the film capital of the world so what could be better if you're a movie buff?
You can't visit Hollywood without hanging out on Hollywood Blvd.
We took the LA Metro from North Hollywood and got off at Hollywood and Highland and our first stop was to visit Ripley's Believe it or Not Museum. Ripley's is a collection of oddities that are exactly that . . . odd. It's a popular tourist attraction for those who love the unusual and is a true museum of weirdness. The Blvd is full of museums like that. Although, if you walk down Hollywood Blvd, you can see weird just about everywhere you look.
I've been living in LA since the mid-'70s and I'd never been to Ripley's before. It's fun and totally bizarre!
Ripley's Believe it or Not
6780 Hollywood Blvd, Hollywood, CA 90028 – (323) 466-6335
Click on Images to View Full Size
Afterward, we got together as a group at Dave and Busters. It's an arcade, and restaurant located at the Dolby theater complex where the Oscars are held.
Encounter with Dancing with the Stars
We noticed there was a commotion taking place on the street below. It turned out all of the new participants from Dancing with the Stars were being filmed on the street as a promotion for the show. We could see Paula Dean, Bindi Irwin, and several of the dancers walking around from our perch directly above. They were performing for the excited audience that had gathered on the boulevard.
The historic Hollywood Roosevelt Hotel
We had some time to kill before our Starline Movie Locations Tour. It was a hot day so a few of us wandered over to the historic Hollywood Roosevelt Hotel and hung out in the air-conditioned bar.
The Roosevelt Hotel was built in the 1920s in the art deco style and was the first location for the Academy Awards. It's an iconic Hollywood landmark. I've been to the Roosevelt on numerous occasions including a premiere party for the movie Terminator Genisys with Arnold Schwarzenegger. It's one of my favorite places to hang out in Hollywood.
A wonderful thing to do during the summer in the evening is sitting at the Roosevelt's pool area and enjoy cocktails. There's plenty of schmoozing going on and you never know who you'll meet.
Make sure to check out things to do in Hollywood here.
Other Hollywood Landmarks you don't want to miss
If you're around Hollywood Blvd, you can't miss the iconic Capital Record's cylindrical building.
Directly across the street is the historic Avalon nightclub It opened in 1927 as The Hollywood Playhouse and was also known as The Hollywood Palace.
The Old Max Factor building on the corner of Hollywood and Highland has been turned into Mel's Drive-in. Although I loved the original, this is pretty cool too!
Starline Movie Locations Tour
Happily relaxed after cocktails at the Roosevelt, we boarded our Starline tour bus. I've taken bus tours in cities all over the world but never tried one in my own backyard. The bus was super comfortable and we enjoyed listening to Mike, our tour guide. As we drove through town, he screened snippets of some of the movies that were shot on the locations we passed by on a large HD screen.
Starline Tours does a great job and is fun if you're visiting Los Angeles for the first time. Our city is a busy and vast metropolis. Sightseeing is easier when someone else is dealing with the traffic.
Our movie locations tour took us past Paramount Studios, the Formosa Café, Red Studios (once part of Desilu, the Charlie Chaplin Stage – now Jim Henson Productions), MacArthur Park (where someone left the cake out in the rain), and several other cool movie locations.
Downtown LA
We made two stops in downtown Los Angeles. The first was in front of Grand Central Market where you can buy specialty grocery items and eat at their many delicious food vendors.
After a quick stroll through the market, we headed over to the historic Bradbury Building, built in 1893. It's one of LA's architectural gems. When we arrived it was closed but I've been inside before and it's an amazing building. You may remember it as one of the locations for the movie Bladerunner.
Our second stop was at Union Station, which is a stunning art deco building and LA's main transportation hub. Its interior and exterior has been used for film shoots for decades.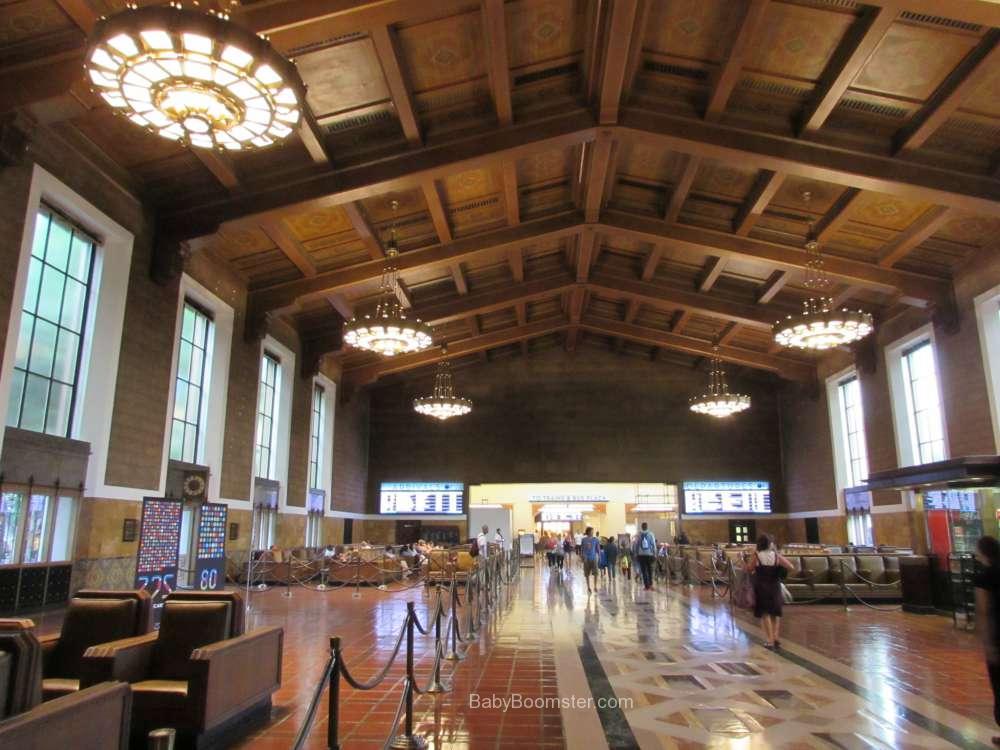 Since I was there on the tour, the ceiling of Union Station was restored for the Academy Awards 2020. Look at the difference in the photo below.
Make sure to check out things to do in Downtown Los Angeles here.
Movie locations tour photo gallery
Click on individual Images to View Full Size in a gallery.
Starline has numerous tours that will take you all over Los Angeles. In addition to their movie locations tour, you can pass by celebrity homes, visit theme parks, movie studios, downtown LA, and beaches. They even have a haunted Hollywood tour.
Find fun things to do in Los Angeles by clicking here.
Have you been to Hollywood? What would you like to see there? Please leave a comment below.