"Going in Style" is a film starring three of my favorite older actors that is sure to make you laugh. It stars Morgan Freeman, (Willie) Michael Caine (Joe), and Alan Arkin. (Al) You can stream it on Amazon here.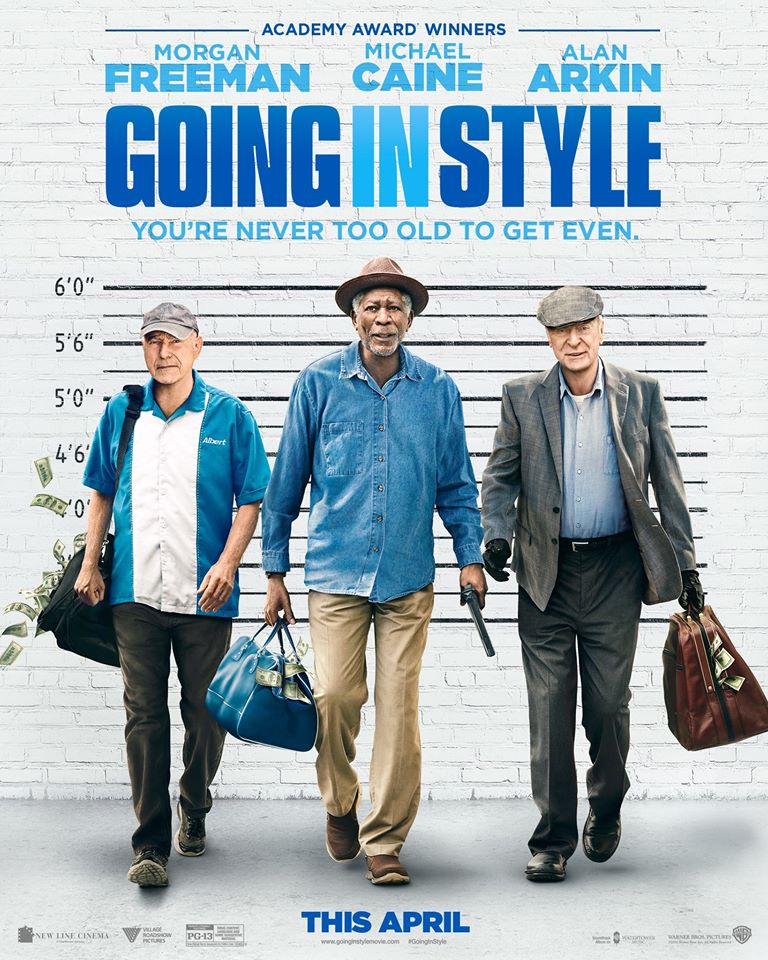 The premise of Going in Style revolves around three 80ish-year-old men who worked together for decades at a Steel company. The company gets sold and during restructure, their pensions are frozen – leaving the three retirees without their monthly checks.
Joe is at a bank trying to explain to his banker why his account is overdrawn. Suddenly, three bank robbers burst in and steal over a million dollars without a hitch. After learning that the bank is managing the liquidation of his company's pension fund, it inspires the three friends to take matters into their own hands and get their money back.
"These banks practically destroyed this country, and nothing ever happened to them." ~ Joe
They vow to steal back what they're owed and donate any extra to charity.
During a "practice" heist, they hilariously attempt to shoplift items out of a convenience store, while still sexy and flirtatious Ann-Margret taunts Albert with chicken breasts.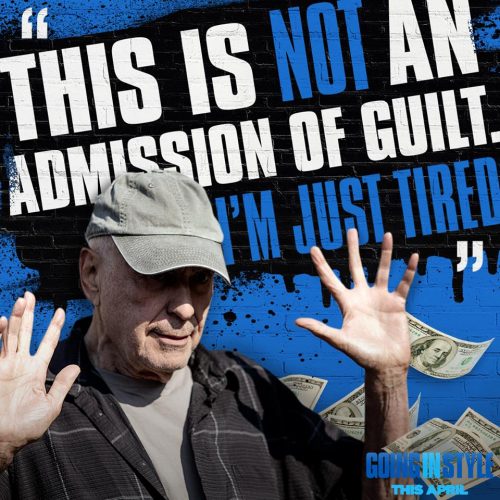 One of the main themes of Going in Style is making the most of the time you have left. The guys don't let their age or an obstacle prevent them from enjoying the lives they deserve after working hard for so many years. And, even more importantly, they fight against corporate greed and unfairness that has it in for the little guy.
The original bank robbers choreographed every move so they wouldn't make a mistake. Our three heroes want to do the same and set out to prepare themselves. In the process, they learn how to handle a gun and use high-tech equipment. Some 80-year old men are content to spend their retirements in easy chairs but these guys are on a mission.
Sometimes we underestimate our ability to learn new things after a "certain age." I surprised myself when I figured out how to build websites and master techie skills that are more "millennial" than "Baby Boomer." I teach them to people who are decades younger than I am and even have my own podcast. You'd think it would be the other way around, given the fact that I grew up when there were typewriters and 8 track tapes.
When it comes down to it, it's all about reinvention. The three men worked in the same job their whole lives and reinvent themselves into geriatric superheroes. They realize they're more than old geezers set out to pasture. You're never too old to be outrageous or act silly.
The film is also about standing up for justice when you're treated unfairly. The men earned their pensions and aren't about to let a greedy corporation take it all away from them.
Even though I never worked for a big company I've been affected by shady bank deals and the mortgage crisis. I was certainly ready to rob a bank in 2008. I just needed Joe, Al, and Willie to show me how.
Have you done something you didn't think you could because you thought you were too old? Leave a comment below.
Be sure to watch the trailer for Going in Style below. It's hilarious.
Rent it on Amazon Prime
This post has been sponsored by Warner Bros. Pictures and I was compensated for this post. However, all my opinions are my own.