Billy D Graziadei IV, also known as Billy Bio, is the founder of the rock band Biohazard. He has teamed up with Angela and Edward Davis, both teachers who started a new company called Cru Sox. Its mission is to give back to those who are disadvantaged. I interviewed them about their cause.
Watch both interviews on video below: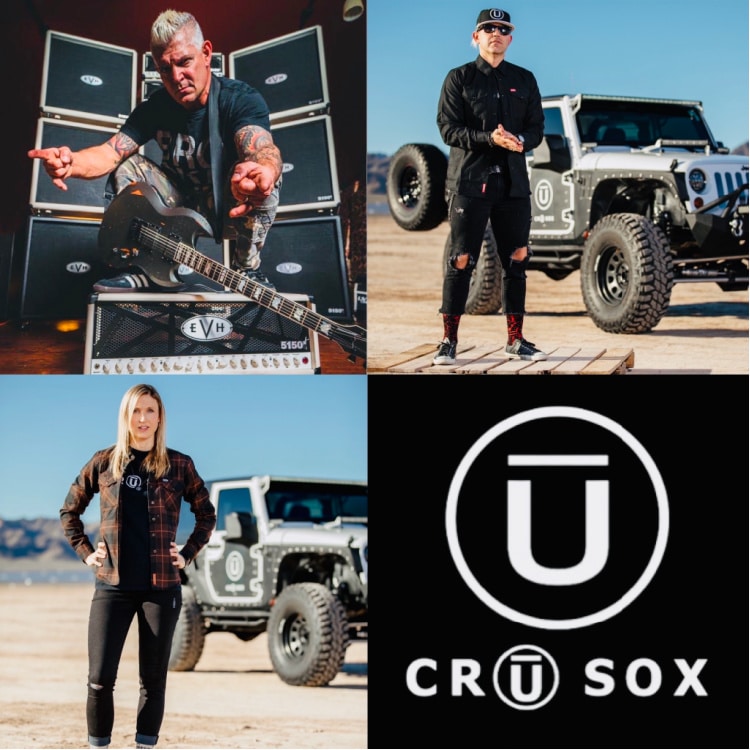 Billy D Graziadei IV
Billy was born in Boston and raised in New York to an Italian Irish family. He now lives in Los Angeles. Ever since the 90s he's been rocking and touring with his band Biohazard, which is known for its socially conscious lyrics. He also started another band called Powerflo with Cypress Hills singer Sendog and goes solo as Billy Bio.
So why would a rock musician get involved with a sock company? I decided to ask him.
A lot of people he knows with business savvy have smirked and asked, "Why would you want to do that?" After all, he's an artist and not a business person. The way Billy sees it "Business is the way to grow the bank account. But, sometimes in life, it's not always about growing the bank account."
Growing up in New York in the 70s and 80s with four brothers, Billy's mother was always darning socks. Times were rough. The seams in their worn-out socks gradually got bigger and bigger and moved to the front and underneath.
When he was older and went on tour, he always bought a bag of socks – 10 to a bag, and it became a thing with him. "Most people have a sock and underwear drawer. I had a drawer that was just socks and most of them were mismatched."
His wife couldn't understand why he had so many socks, so he told her his mother's story. To help him get over his sock obsession she suggested he start donating them.
Making a difference in the world
Billy and his Cru Sox partners, Angela and Edward Davis all have a passion to make the world a better place. Even though the businesspeople Billy knew didn't understand why he wanted to become involved, his socially conscious artist friends got the idea of giving back to the community.
"The success of the company is based on how much free stuff we can give away." Much of the company's support has come from artists and others who believe it's worth the effort to put a smile on someone's face. Besides helping the homeless, they've been working with people from Crazy Town (another band from the 90s) who supports drug and alcohol rehabilitation.
Cru Sox's give-back philosophy runs the gamut of people who are down and out. They've been talking to organizations that help those from broken homes like misplaced and homeless teenagers who want to make their lives better and are still going to school.
Even during the pandemic, Cru Sox geared up their donations for the holiday season.
We discussed how more and more companies like Toms and Warby Parker are adopting give back marketing as a part of their selling points.
Spreading kindness
Billy was raised by good parents and was a Boy Scout. All his life he was taught to always do good. Even when he meets fans, he wants to make them feel special. He'll stick around and shake their hands, say hello, and talk about music. He doesn't charge his fans for autographs or to record a voicemail and even sends birthday messages to people he's met along the way.
When he meets with his fans, he wants them to walk away feeling great knowing that he took the time to talk to them even if they were in the middle of a crowd. He believes in spreading kindness every day whether it's helping a person across the street or bagging their groceries. Recently he took his son to In & Out Burger and paid for the food of a young teen behind him just to put a smile on his face.
Cru Sox have street appeal
Cru Sox are designed for the street and feature aliens, Christmas socks, airplanes, socially conscious ideas, and more. The company also designs socks for other bands and artists.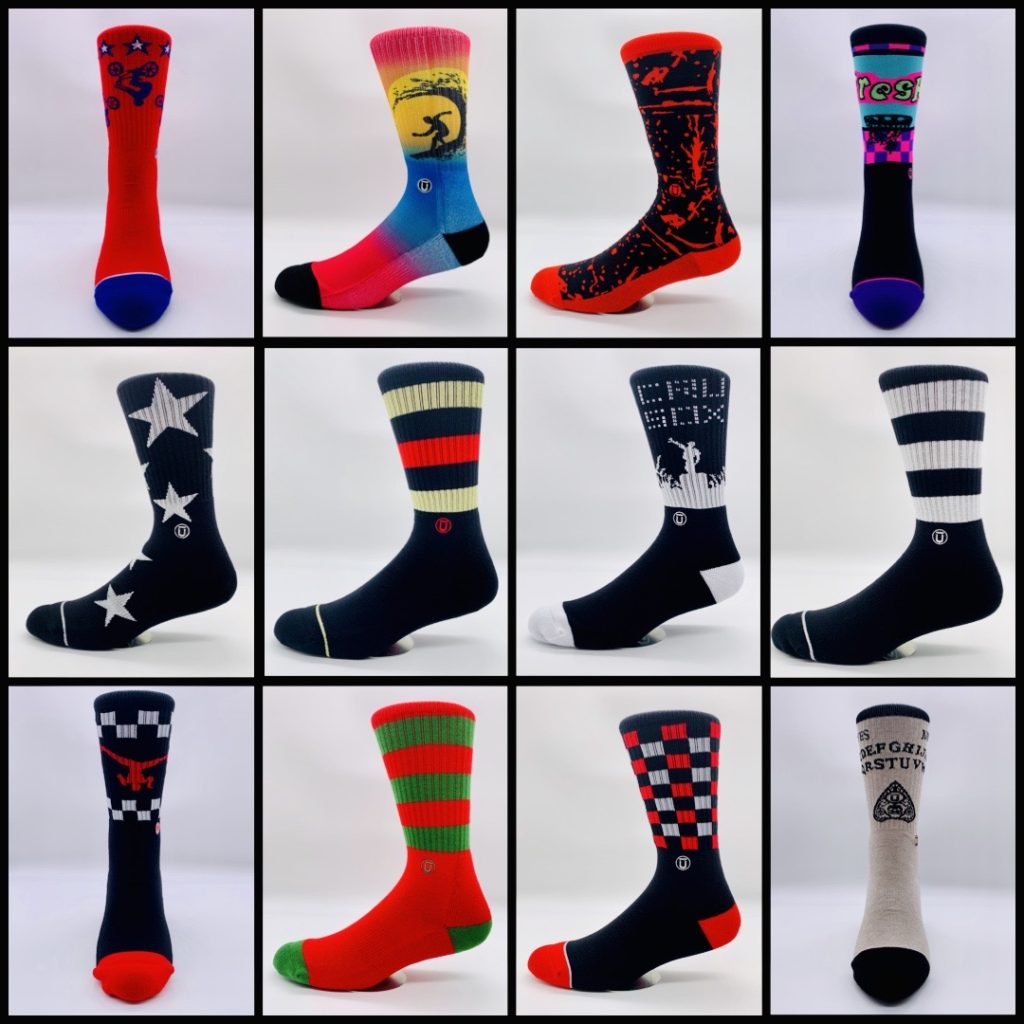 Angela and Edward Davis are the company founders
Angela and Edward are both teachers who are always trying to find ways to motivate their students and teach them to treat each other fairly. On one occasion, a guest motivational speaker was at their school and talked about going out into the world to do great things. Edward said he got even more out of it than the students did.
The speaker remarked, "You can be a talker, or you can be a doer." Edward spoke to him afterward about his goals. He suggested giving socks to those in need because they are the most sought-after items for people down on their luck. Edward got to thinking that his students were always wearing crazy looking socks. So he turned to Angela and said, "I think we missed the boat. We should have probably started a sock company"
That was about 5 or 6 years ago. Later, he thought, "We're always doing things to help the community and get people involved like food distribution and other volunteer activities. Why not start a sock company that gives back to those in need?"
(Edward tells the story about going to a dance with his former students who were then in high school and how they put a fire under him. Please watch how he describes it in the video below.)
After the dance, a light bulb went off in Edward's head. He told his wife to take notes. "This is the name of the brand. It's going to be called Cru Sox." He also envisioned the logo. Then, it all started to click.
The next day, they were at school and a student asked Edward to check out his socks with sharks on them. Edward saw this as a sign that it was time to go for it!
I've worked with several entrepreneurial organizations in the past and know that many people who work 9-5 never get out of that box. For teachers, it's hard to teach their students about starting a business unless they've done it themselves. What Edward and Angela are doing is not only valuable to them but also to their students.
In today's world, many people are looking outside the box for alternative ways to make extra income. That's why the gig economy is so big for all age groups right now. Students are especially feeling the angst of not knowing what the future will bring. If they can learn to be a self-starter they may be able to survive and thrive without a traditional JOB.
Once Cru Sox was launched Edward retired from teaching to work on the business full time. Angela still works at a charter middle school teaching 8th-grade math but also puts a great deal of time into the business and works on the designs.
The Davis's are looking forward to being able to get back to doing give-back events and donating their time to help others.
Hooking up with Billy
Edward was a fan of Biohazard when he was young and used to listen to their music when he was cutting lawns as a teen. He saw them in concert a few times. The couple had the opportunity to go to one of Billy's shows where they live in Las Vegas. Edward used to tour with bands, so music was always a big thing for him.
After the show, they were hanging out and Billy came by. They got into a conversation with him, mentioned they were teachers, and told him about their idea of launching Cru Sox. Billy has teachers in his family and thought it was a great idea. He told them to keep him posted.
Once Cru Sox was launched, they sent Billy some socks, and not long after Billy got in touch with them. "You nailed this thing. I definitely want to be involved." From then on, they have been partners.
Cru Sox also does custom socks for bands and businesses. The image below is their give-back formula.
The company also helps bands so they won't get ripped off by those who sell their merchandise. They make it affordable and let the band sell socks on their own platform. That way the band keeps the money in their own pocket rather than licensing where the profits go into many pockets.
People think rock stars are all rich. Some are, but most are struggling, especially now that songs are cheap to purchase or are free on streaming services.
To learn more about Cru Sox and its mission, visit its website here.