As I write this, we are almost 2 years into a historic and once unthinkable pandemic. Most of us were hoping it would be over by now but instead of slowing down, it's spiking again. And if the virus wasn't enough to take a toll on our health, the anxiety caused by it has become a condition in itself.
COVID -19 anxiety syndrome may become the next health crisis. As of today, we are still experiencing lockdowns, mandates, new variants, and frightening news reports. According to psychiatric research, this has resulted in avoidance, compulsive symptom checking, worrying, and threat monitoring.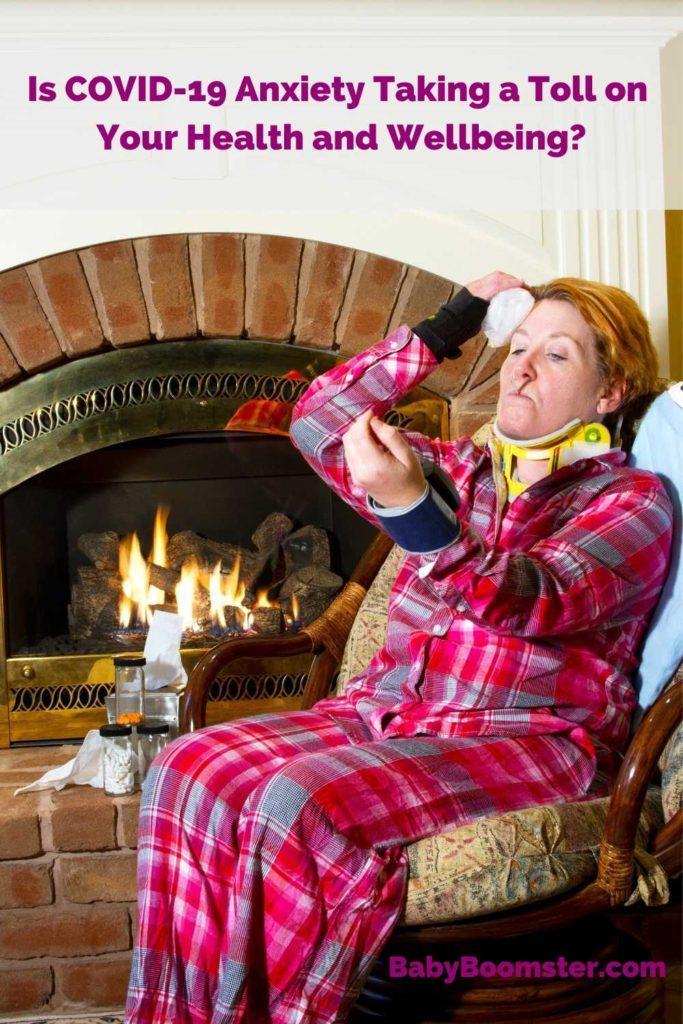 It's not all in our imaginations
How could you NOT feel stressed or worried with a pandemic raging? No one wants to get sick even if the symptoms for those who are vaccinated are mild. You don't know if it will affect you badly so why take chances?
COVID -19 anxiety may even cause you to believe you're sick or cause a panic attack every time your stomach gets upset, you sneeze, or feel an odd pain somewhere in your body.
As seniors, we worry about how we will be taken care of if we have a heart attack, stroke, or appendix attack while hospitals are overwelmed. We hold off talking to our doctors and put off making appointments when something less serious is wrong. The thought of going to a hospital or doctor's office where we can be exposed to sick people keeps us away.
COVID-19 anxiety will forever change the way we do things
It may make you fear doing things you had no issue doing before like using public transportation, going to events, touching things, and seeing loved ones.
How many times have you taken your temperature in the last 2 years only to find you're normal? Do you freak out if someone near you coughs or sneezes? I can't count the number of times I've stuck a thermometer in my mouth everytime I felt a little warm.
I get jittery walking into a drug store and avoid the flu and cold aisle because people with COVID may have contaminated the shelves. It sounds alarmist but you can't always help what comes into your mind after what we have all been through.
Still, there are others who pretend it isn't happening
They refuse to get vaxxed, don't wear masks, and don't care if they cough all over you. They are convinced it isn't real or is a hoax designed by the government to frighten us.
We still have to live our lives despite the fear
At certain points during the pandemic I've flown in airplanes, taken trains and subways, watched movies in movie theatres, gone to a concert, and eaten in restaurants. But, I am also fully vaxxed and take precautions. When I go to the grocery store, I sanitize the cart, wear a mask, slather on hand sanitizer afterward and wash my hands when I get home. So far, I have remained healthy and hope to stay that way.
It's hard not to have anxiety when others minimize the danger
I recently attended a networking meeting I've been a member of for almost 20 years. They didn't hold meetings during the pandemic until last summer when they started meeting again but because I moved I hadn't been back. It was a holiday event and I wanted to support the business women who were selling gifts. 50 women attended at a country club. Only about 2 others besides me were wearing a mask. Needless to say, I won't be back again until the pandemic is over. It was disheartening.
Most people in my area of Los Angeles are careful and compliant and our mayor and governor are doing what they can to avoid more spread. But there are still some who believe you should let yourself get the virus so that you will be immune. That hasn't been proven at all and I know people who have gotten it more than once. My philosophy is, why screw up your respiratory system if you don't have to?
I understand that people have the right to choose whether or not to be vaccinated but I have zero sympathy for them. Vaccines have eradicated diseases that used to kill people on a regular basis like polio, measles, tetanus, and smallpox. 98% of those who are deathly ill in hospitals have refused to take the shot and complained about wearing masks.
To be honest I want to stop talking about COVID on this blog and would love for it to be a blip from the past but it isn't going away for a while. We have to face reality and realize that no matter what our age, we aren't invincible. I feel the disinformation that is being allowed on media is criminal.
My wish for the New Year is that we all listen to accredited scientists instead of politicians and hacks and get this thing over with already.
Our new normal will never be the same
COVID anxiety will go on for some time even after the pandemic is just a memory. My own doctor is seeing it every day. People are coming in with all sorts of stress-related conditions. The best thing we can do is listen to the facts, take care of ourselves by eating well and exercising, and protect those who are most vulnerable.
It's up to us. Let's make this happen so our anxiety will melt away like warm ice cream.
Order at home COVID Self Tests at Walgreen's here.
Have you been stressed out because of the pandemic? How has it affected you? Please leave a comment below.